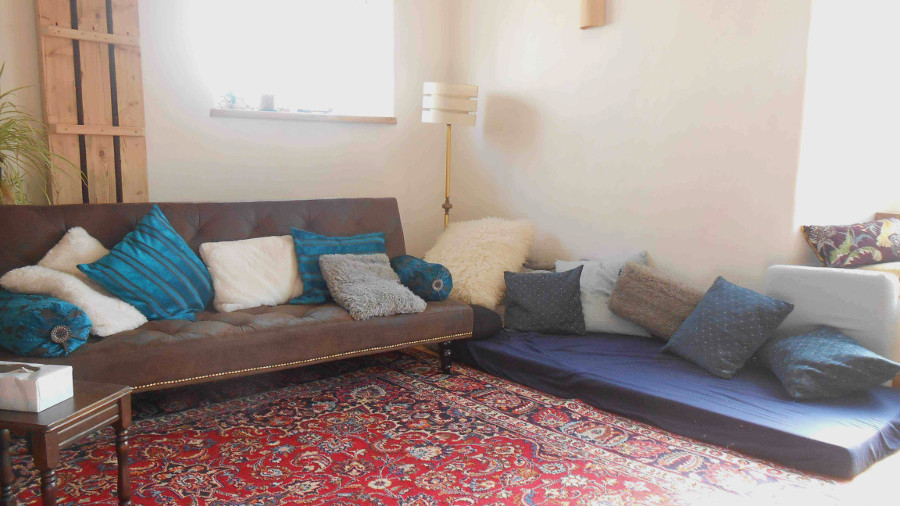 Facilitator(s) Stephen Tame & Judith Salling-Ash
Date/Time Date: 03/12/2022 - 04/12/2022
10:00 am - 5:00 pm
About this event
This weekend is now fully booked – 2023 dates available here

Following the success of our 'Embodied-Relational Therapy meets Radix' workshop in 2020,
Stephen Tame & Judith Salling-Ash are offering deep therapeutic process weekend groups drawing on these two strands of Reichian growth work.
2022 weekends in the diary:  March 12th-13th, June 11th-12th, Oct 8-9, Dec 3-4. You are welcome to book for one or more of these weekends.
These non-residential weekends invite you to work with your process, and are intended to be transformative. We invite you to work at your own pace and depth with the material you bring.You will have the opportunity to work therapeutically with both Judith and Stephen.
Please note that these are therapeutic rather than training weekends. These weekends are open to anybody who is drawn to join us, though we ask you to consider paying attention to having sufficient therapeutic support and/or resource in your life to help integrate what can be a powerful and impactful therapeutic experience.
These weekends work well as either a stand alone therapeutic encounter or as an adjunct to 1:1 therapy. Our experience is that the resources of a group, over a weekend, can hold and facilitate processes differently, sometimes more deeply and powerfully, than within our 1:1 work.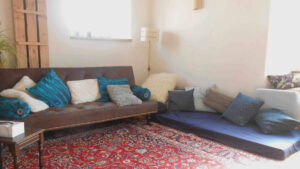 Current neuroscience and leading edge psychotherapy is showing that trauma is stored in the implicit memory within the body.  These weekends offer the possibility of accessing and releasing or processing this trauma.
For Stephen, including Radix is something of a return to source, bringing the dynamism and structure of Radix into the work.  Judith is enjoying collaborating – exploring the differences and similarities between Radix and Embodied-Relational Therapy (ERT), enlivening her Reichian work.
Radix offers a rigorous model for making sense of our emotional/physical armouring  as well as the earlier softer structures, and gives us a robust confidence in a clear and raw approach to the work. The approach is intuitive and follows the process (particularly of the body) faithfully, within a strong frame created by clear structural reasoning and exercises.
Stephen writes: I've found that Radix has woken up my psychotherapy practice – I'm more relaxed and confident in supporting clients to work physically and robustly, and it has usefully shifted my focus slightly away from the relational between a client and myself, to recentralising the client's experience, with the relational in service to them and their process.
I've found this very refreshing, and am really pleased to be co-leading this ongoing therapeutic work with Judith Salling-Ash. Judith is an experienced practitioner, and has spent more time engaged in Radix work than almost anybody else in the UK – She is a solid, compassionate, courageous practitioner.
The  2022 weekends in the diary so far: March 12th-13th, June 11th-12th, Oct 8-9, Dec 3-4. You are welcome to book for one or more of these weekends. If covid restrictions prevent them taking place, we will refund fees, or transfer bookings to later dates where possible. Bookings are now open – contact [email protected] for booking or for any questions or queries. Please note that places are limited to 8 participants, Booking deadline 11th November 2022.
Judith Salling-Ash:
Judith originally trained in TA psychotherapy and became interested in body psychotherapy and Radix specifically as part of her journey to come home to her own body. She works in private practice in Swindon where she enjoys the privilege of connecting with and discovering other embodied souls. Her work is influenced by non-dual perspectives and supported by current neuroscience thinking. https://www.jsatherapy.co.uk/
Stephen Tame:
Stephen Tame is a relational body psychotherapist, with decades of experience and enthusiasm working with clients and trainees. He is a member of the Embodied-Relational Therapy and the Wild Therapy training teams. He continues to learn from his colleagues, clients, trainees, other trainers and the wider world. http://www.stephentame.co.uk
Feedback from recent weekends:

"I think the weekend has marked a turning point in my search for 'self' and opened new horizons and unforeseen possibilities."
"I found this weekend to be very powerful and surprised at the effects of working in this way – it felt like it was possible to get to the heart of things as they are."
"I feel I have met with myself in a deeper, richer way and been able to connect more authentically with others."
"I felt it was very well held and this helped me in feeling safe and allowed me to go to quite deep places in my experiential body. "

"The level of safety created enabled me to go deeper into my experience than I've done in the past."
Location The Hearthside Room, The Old Manse Mary Street Bovey Tracey, Devon TQ13 9HQ
Contact Details Contact Person: Stephen Tame Email: [email protected] More contact details: https://www.jsatherapy.co.uk/ Website: https://erthworks.co.uk/events/body-psychotherapy-weekend-6/
Cost £195, with an earlybird price of £175 if booked 6 weeks in advance