Facilitator(s) Nick Totton and Allison Priestman
Date/Time Date: 01/11/2016 - 31/10/2017
All Day
About this event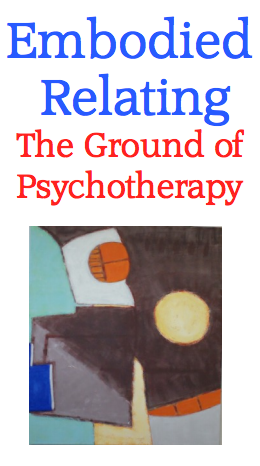 This course is based on Nick's book Embodied Relating: The Ground of Psychotherapy, and aims to give the ideas of the book a base in experience, and to apply them to clinical situations. It also draws on Allison's latest thinking and working with these and similar themes.
Truly integrating body psychotherapy with verbal work means recognising that our embodied perception is fundamental to all psychotherapy practice: it is the concrete experience from which we derive abstractions like 'transference', 'counter transference' and 'projection'.
Embodied relating is not an esoteric branch of neuroscience, nor an obscure psychotherapeutic theory, but something embedded in our everyday life: we can all 'do' embodied relating, though some do it better than others. Like many other important aspects of life, it generally happens of its own accord, but sometimes benefits from the sort of close examination which tends to happen in therapy. However, psychotherapy has a history of keeping embodiment out of its field of awareness, and preferring language-based relating to all other kinds – indeed, until quite recently, downplaying here-and-now relationship altogether. All these things are now changing; and this course is intended to be part of the change.
We believe that all relationship is initially between bodies: embodiment and relationship are inseparable, both in humans and in the practice of psychotherapy. If we explore embodiment, we encounter relationship; if we explore relationship, we encounter embodiment. Therapy is more powerful when the practitioner is able to recognise the constant interplay between these two aspects of being human, and to follow and support the shifts of charge from one to the other. This allows us to identify and process the many situations in which relational problems between therapist and client are best understood as issues of embodiment.
On the course we aim to bring participants back to the ground of embodiment, and to discover how we can work from our bodies without necessarily doing anything other than sitting in chairs and talking – although we certainly will be exploring other channels of relationship. This training is for body psychotherapists, verbal psychotherapists and counsellors, and other practitioners interested in developing an integrated approach to embodiment. It will include discussion, experiential work and supervision.
Practicalities
A one-year training course held over 5 non-residential weekends.
Led by Nick Totton and Allison Priestman.
Dates:
19th – 20th November 2016
25th – 26th February 2017
13th – 14th May 2017
8th – 9th July 2017
7th – 8th October 2017
Location: Spiral, London.
Cost: £1250.
Location Spiral Center 2 Shelburne Road, Islington London N7 6DL
Contact Details Contact Person: Nick Totton Email: nick@3-c.coop More contact details: Website: http://erthworks.co.uk/wp-content/uploads/2016/07/Embodied-Relating-2016-17-1.pdf
Cost £1250